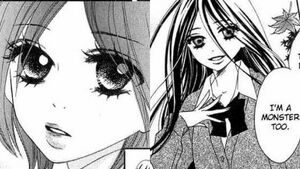 Kiyo Dojoji

Gender

Female

Age

16

Height

155 cm

Race

Shirohebi (Snake Demon)

Family

Kensuke Dojoji (twin brother)

Kanji

道成寺 希世
About Kiyo Dojoji
Edit
Kiyo is a Shirohebi (a snake demon) who is completely in love with Kyo Usui. She is Misao Harada's friend, but shows her her demonic form and bites her with the venom of the Shirohebi. Kiyo then works with Shuhei Kuzunoha so she can get Kyo.
Relationships
Edit
Kensuke is Kiyo's twin brother. She gets him to work with Shuhei for a short while.
He works with Kiyo so he can have Misao and Kiyo can have Kyo.